What you can do on this page: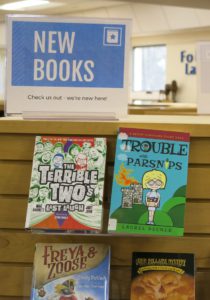 Today–all my friends who love libraries–I'm going to tell
Read More »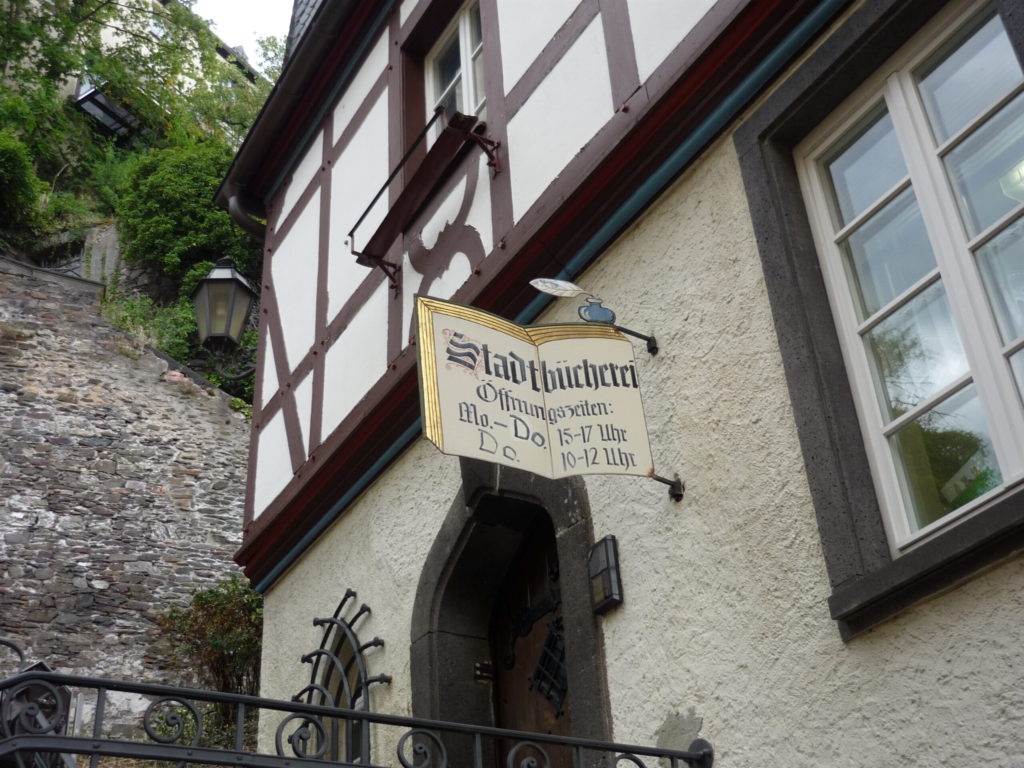 Are you looking for resources for library patrons?
Request a Review Copy or Quiz
You can take the quizzes for a test-drive on this page. This form is for getting the uploadable format that will work for teacher-added AR quizzes.
Bumpity Boulevard Press Catalog
Do you need more information about the books? Look it up below in the tabbed book details. Or download a catalog.
How about a poster for the library? This year's poster is the real High Water Tower in Cochem. It's the inspiration for the beloved Palace Agricultural Library in the books. The High Water Tower stands below the Cochem castle, on the bank of the Mosel River. The beautiful castles along the Mosel and Rhine Rivers inspired the fictional world of the Seven Kingdoms.
Book Details for Librarians
TROUBLE WITH PARSNIPS (Book 1)
TROUBLE WITH PARSNIPS
A Seven Kingdoms Fairy Tale about the magic of speaking up
About the Book:

When you're 15th in line to the throne, it's hard to make a name for yourself. The youngest princess of Cochem still needs a christening and she's ten. She can't get a word in edgewise and her fairy godmother isn't helping. If the princess doesn't get a name in 15 days, she'll be invisible for life!
Publication date: Oct 2020
ISBNs:
978-3-9820075-1-9 (Hardcover)
978-3-9820075-0-2 (Pbk)
978-9820075-2-6 (eBook)
Page count: 266
Trim size: 6 x 9 inches
Retail Price: $4.99 ebook / $12.99 pbk / $22.99 case laminate
Publisher's Cataloging-in-Publication data
Names: Decher, Laurel, author.
Title: Trouble with parsnips / Laurel Decher.
Series: A Seven Kingdoms Fairy Tale; book 1.
Description: Peacham, VT: Bumpity Boulevard Press, 2018.
Identifiers: ISBN 978-3-9820075-1-9 (Hardcover) | 978-3-9820075-0-2 (pbk.) | 9783982007526 (ebook) | LCCN 2018907982
Summary: A nameless princess re-invents herself and saves her kingdom when she learns to speak up in a crisis.
Subjects: LCSH Kings, queens, rulers, etc.–Fiction. | Public speaking–Fiction. | Inventors–Fiction. | Inventions–Fiction. | Self-actualization (Psychology)–Fiction. | Fantasy. | BISAC JUVENILE FICTION / Fantasy & Magic | JUVENILE FICTION / Humorous Stories | Juvenile Fiction / Social Themes/ Self-Esteem & Self-Reliance
Classification: LCC PZ7.D3557 Tr 2018 | DDC [Fic]–dc23

Cataloging information for Germany:

Die Deutsche Nationalbibliothek verzeichnet diese Publikation in der Deutschen Nationalbibliografie; detaillierte bibliografische Daten sind im Internet über http://dnb.d-nb.de abrufbar.

ATOS Book Level: 5.1 (Grade 4)
Subjects: Juvenile Fiction
/Social Themes/ Self-Esteem & Self-Reliance
/Humorous Stories
/Fantasy & Magic
Comparable titles:

Tuesdays at the Castle

(9781599906447)

Once Upon A Marigold

(9780152050849)

The Adventurer's Guide to Successful Escapes

(9780316305266)
About the author:
Laurel Decher lives on the outskirts of a mid-sized city in Germany, between a medieval chapel on the St. James' Way and a boundary marker tree carved with a scary face. It's a little surprising, since she expected to live in Vermont for the rest of her life. You just never know when adventure will call!
Overdrive Author page: https://www.overdrive.com/creators/998865/laurel-decher

About the publisher:
Bumpity Boulevard Press
P.O. Box 191
Peacham, VT 05862
press@bumpityboulevard.com
Overdrive Publisher page: https://www.overdrive.com/publishers/bumpity-boulevard-press
TROUBLE WITH PARSNIPS on Overdrive https://www.overdrive.com/media/4366652/trouble-with-parsnips 

LOST WITH LEEKS (Book 2)
UNDER PRESSURE WITH A SQUASH (Book 3)
HOLIDAY SHORT STORIES
Books Available in these Library Collections:
Albuquerque Bernalillo County Library System (NM)
Askews and Holts Library Services Ltd
Capital Area Library District (PA)
Chicago Public Library (IL)
Cleveland City Schools (TN)
Corona-Norco Unified School District (CA)
Eau Claire Area School District (WI)
Florham Park Library (NJ)
Khalsa School Newton (CA)
Northeastern Utah Educational Services (UT)
Peacham Library (VT)
Riverdale Elementary School (TN)
Roslyn Public Schools (NY)
Santa Maria-Bonita School District (CA)
Toledo Lucas County Public Library (OH)
WSWHE BOCES School Library System (NY)
Wollert, Victoria, Australia
Deutsche Nationalbibliothek, Frankfurt am Main
Deutsche Nationalbibliothek, Leipzig
Tamaki College
Thailand International Schools Consortium
Askews and Holts Library Services Ltd