Can a magically-disguised princess make herself heard when it really matters?
About TROUBLE WITH PARSNIPS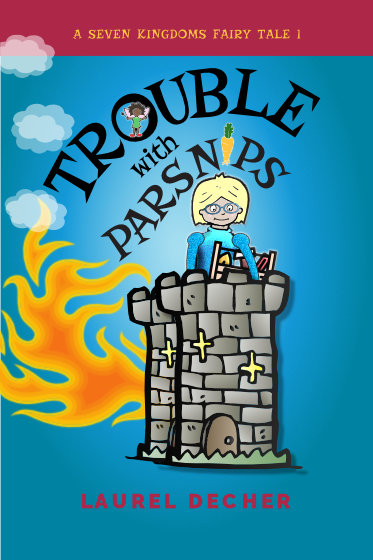 For fans of Jean Ferris' ONCE UPON A MARIGOLD, Jacqueline Davies' THE LEMONADE WARS, and E.G. Foley's THE GRYPHON CHRONICLES.
A Story About the Magic of Speaking Up
The nameless princess might get a name today! Her 14th try is looking good . . . Even though she can't get a word in edgewise. 
Then the Blackfly Queen strides into the feasting hall . . . Just as the oh-so-tasty parsnip fries run out.
 Arrows fly! Tempers flare! Another christening goes up in smoke! 
Her fairy godmother's perfect leadership gift has one small side effect: The princess has 15 days to make a name for herself . . . Or she'll be invisible for life! What's a princess to do? 
Can she finally use the tool that's never worked. . .her quiet voice?
Why read Seven Kingdoms Fairy Tales?
Everyone knows the leaders of tomorrow will need lots of skills. Each Seven Kingdoms Fairy Tale takes on a BIGGIE.
In each Tale, a fairy godparent gives one lucky child the perfect leadership gift. Abracadabra!
If only they'd remember the training wheels! Yiiiiiiikes!
Whether it's speaking up at a feast, reading a compass or taking a test in a strange kingdom, these Tales are all about finding more magic in your life.
"I love all the rich details like the Blackflies, the goldfish in the moat, the sluices carrying the desserts . . ."
"Kids will love every quirky thing about it!"
"I love the premise of hiding in plain sight. The concept that a kid could go through childhood – and life – without feeling they are being heard or seen is such an important topic . . . I know a lot of kids will be drawn to this!"
"Emotionally engaging. I feel much sympathy for [the nameless princess], yet at the same time her parents and all their inadequacies are so endearing."