Beautiful city hall on legs in Michelstadt, Germany
Michelstadt, Germany is the perfect stop to "bee" inspired for a new Valentine fairy tale.
The ponderous beams of the city hall built in 1484 don't look like they need protection.
If they did, what could a bee do?
If the Blackfly Queen (in my new fairy tale for ages 9 to 12) had paid more attention to her bees, things might have gone differently for her . . .
Why do the people in Michelstadt celebrate their bees every year? Because a heroic bee saved their town from defeat.
Something about a sleeping watchman in the tower and a painful sting on the nose at the critical moment. "We're being attacked!"
The moral of the story is to watch your bees very closely. They might be trying to tell you something important.
The thief's tower didn't used to have a door. Unfortunate prisoners were dropped down into the dungeon through a trap door.
Now that it's no longer a dungeon, it looks quite cute. It's attached to the city wall. A nice view for the watchman from up there . . .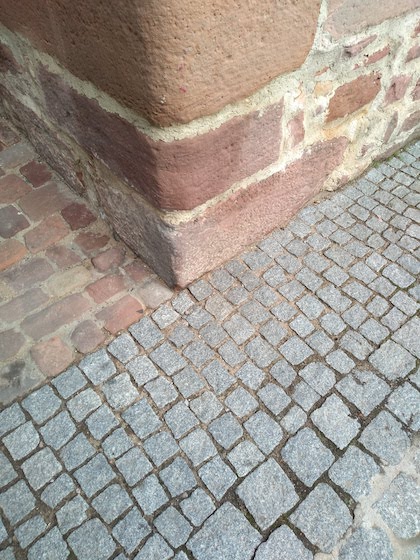 It's hard to show you how sturdy this city hall is. I should have left my foot in there for scale. It was originally built in 1484.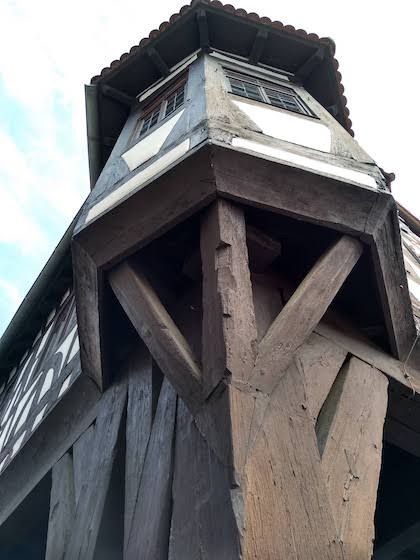 Here's the corner beams holding up the turret room on the top floor.
The street on the side of the city hall is picturesque too. I wanted to go into that half-timbered shop to see all the quaint things they had in the windows, but they weren't open that day.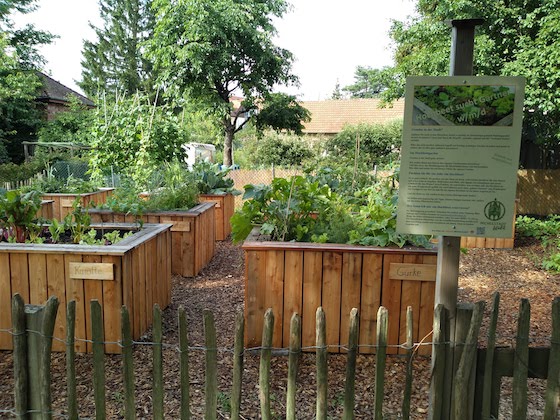 Vegetable gardens are sprinkled everywhere around the city--perfect bee habitat!
Each of these raised bed gardens is named after a vegetable. Gurke means cucumber and Karotten means carrots. But everyone seems to be growing whatever veggies they like. Gardening #freedom. 🙂

Trouble at the Valentine Factory is big trouble!
The Blackfly queen is up to tricks again.

She's got a bee in her bonnet about bee-ing the most beloved queen in the Seven Kingdoms. Her plan? Spread magical rude hearts around, so that the current Carnival Princess will be forced to step down for a "better" queen.
And if no one wants the Blackfly queen as a Carnival Princess, she has another plan for that . . .
Sharpshooter Princess Saffy and mapmaker extraordinaire Prince Magellan have to bee quick!
Or everybody's going to get stung!
A new adventure starring the eleven-year-old Saffron twins*!
A Valentine's Day "short story" turned into a full-length adventure, because . . . bees + cupids + parade + Queen Ash = Trouble with a capital T.
For ages 9 to 12.
Here's a bit more buzzzz:
If the kids want more about the Saffron twins, Saffy and Magellan have another adventure after this one in Under Pressure With a Squash: The Multiplication Problem #3 in A Seven Kingdoms Fairy Tale series.

BUZZZZZZZZZZZZZZZZZ
***For more about how a bee protects a castle come back after February 8, 2022 and visit this post.