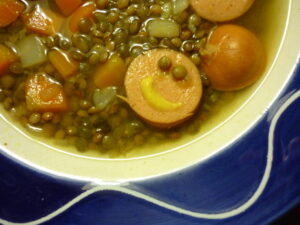 This is the fourth post in a short series on preparing for (and thriving during) National Novel Writing Month. You can find the first post about collecting ingredients here and the second post about finding the core of your story here and the third post about cutting the story up into manageable portion sizes here. Happy Writing!
It's Day 7 of National Novel Writing Month and by now your story might be turning into a confusing soup.
No worries. Set aside today's freshly whipped up words and let's check the "recipe."
The recipe a.k.a. "The Hollywood Formula."
Writing Excuses comes to our rescue with "The Hollywood Formula." Listen to the 20 minute episode here while you do lifesaving work like hanging up laundry or cooking something for dinner.
Then make up some answers to these questions* about your story:
Who's the hero or heroine in your story?
What does s/he want?
If you need help with either of these questions, I recommend the Reverse Backstory Tool. It's like an engine for your story. You can also try asking: Who's the absolute worst person to handle this situation?
The antagonist is defined as the person who STOPS the hero/heroine. This seems really obvious, but it's very easy to pick the wrong person as the antagonist *cough* and then wonder why you're story isn't moving.
What's the (simplest) theme? What's your story about?
Love? Hope? Immigration? The challenges of everyday life? Whatever it is will help you brainstorm more scene ideas that actually have something to do with the rest of the story. If you get something you like, write it down and steer your story by it.
*You'll notice these questions are awfully similar to "A Pinch of Story Structure." When you write a novel, there's no shame in asking the same questions over again. 🙂 As the story grows, the answers sort themselves out: Trust the draft.

Don't fuss. It's time for broad strokes. "Hit it and get out" is the order of the day. You've got more words to write.
You're a writer.
Happy writing!
_______________
If you'd like to stay in touch, sign up for my Reader's List. Once a month, I share new middle grade fiction, story-related freebies, and/or related blog posts. If it's not your thing, you can unsubscribe at any time.
Save
Save
Save