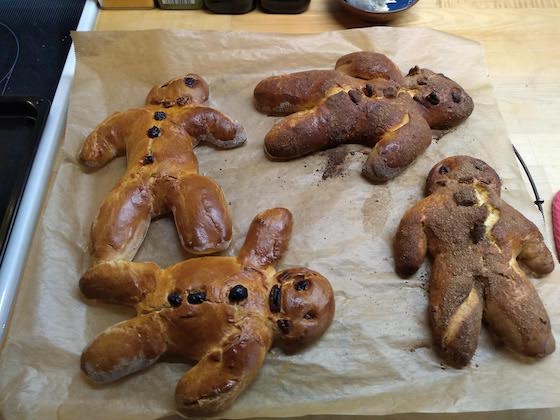 Directions and Recipe to Make Your Own Bread Guys for St. Nicholas Day!
In Germany, you can buy these in every bakery at this time of year: Weckmänner or Stutenkerle or "bread guys" (as they are called at our house). In the Rhineland part of Germany, people eat these for St. Martin's day. At our house, we have bread guys for St. Nicholas Day on December 6th.
Make some at home the easy way with refrigerator dough from the grocery store.

Or make this Sweet Roll Dough:
1/2 cup milk
3 Tablespoons butter
2 Tablespoons sugar + 1 Tablespoon for the dried yeast
2 teaspoons salt
2 1/2 teaspoons dried yeast
1 egg + 1 egg for the shiny "egg wash" look
3 cups sifted flour
(adapted from Mary Margaret McBride Encyclopedia of Cooking. Volume 2, pg. 435. Homemakers Research Institute: Evanston, Illinois, 1958.)​
1. Dissolve yeast and warm some milk
Fill a small bowl with 1/2 cup water–it should be the same temperature as you are. If you dip your finger in the water, it won't feel cold and it won't feel HOT. Just warm is perfect. Add the yeast and 1 Tablespoon of the sugar. Mix it up and let it bubble while you heat the milk.
Heat 1/2 cup milk, gently. I put it on the stove in a tiny butter-melter pot. It also works in a microwave. When a fine ring of bubbles form around the edge, it's ready! Add the butter, salt, and the rest of the sugar (or all of the sugar if you decided not to put some in the yeast). Let cool.
3. Sift flour into a bowl.
While you are waiting, get a clean bowl and sift the flour into it. (Do you like sifting? It's kind of like snowing in the kitchen. 🙂
4. Add milk mixture to yeast
Is your milk mixture cool? Then mix the yeast and the milk mixture together in a bigger mixing bowl. Crack 1 egg and mix that in too. A whisk works well if you have one. Or a fork.
Add flour–a little at a time makes it SO much easier–and mix with a big spoon until it all comes together. Put some flour on a board or the clean counter top and dump out the dough. Flour your hands and keep turning the dough and folding it until all the flour is in the dough. (It's fine if you have some flour on the board. That keeps it from sticking.)
6. Divide the dough + shape the bread guys
Take a big knife and cut the ball of dough in half, twice. Each piece makes 1 bread guy. Grease a cookie sheet or put baking paper on a cookie sheet and work right there, so you don't have to move the bread guys after you make them.
Make your bread guys, and add decorations: raisins, nuts, sprinkles, cinnamon sugar, cinnamon heart buttons. If you have to move them, try a big floured spatula, knife or pizza peel. Then repair them after they get where they need to be.
If you want to do the shiny egg wash, beat 1 egg in a bowl with a tablespoon of water. Brush each bread guy.
8. Pre-heat the oven and bake the bread guys
Heat the oven to 375 F or 190 C. Convection works well if you have that choice–it makes the baking time a little shorter. Bake the bread guys 25 to 35 minutes.
9. Get ready to celebrate St. Nicholas Day!
While you are waiting, this is the perfect time to clean your boots so you can set them out for St. Nicholas to find on December 6th.
Once the bread guys are cool, you can wrap them up if they are going into someone's boot for the holiday.