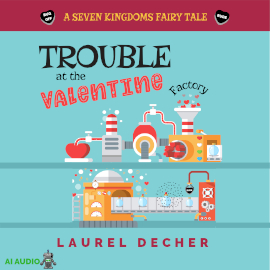 ". . . a zany story of ingenuity and collaboration . . ." –Jen McConnel, School Library Journal.
Audiobook available on GooglePlay, Apple Books, and on kobo.
Paperback, eBook (epub and Kindle) and snazzy jacketed hardcover editions also available.
Trouble at the Valentine Factory
Will this Valentine's Day be the sweetest day of the year? Or the rudest?
The eleven-year-old royal Saffron twins—Princess Saffy and Prince Magellan–have to save the Seven Kingdoms from the Blackfly Queen's dangerous new magical candies!

See Magellan's score cards and maps while you listen . . .
You can listen to the audiobook without the illustrations, but why should you? You can download a handy PDF right here.