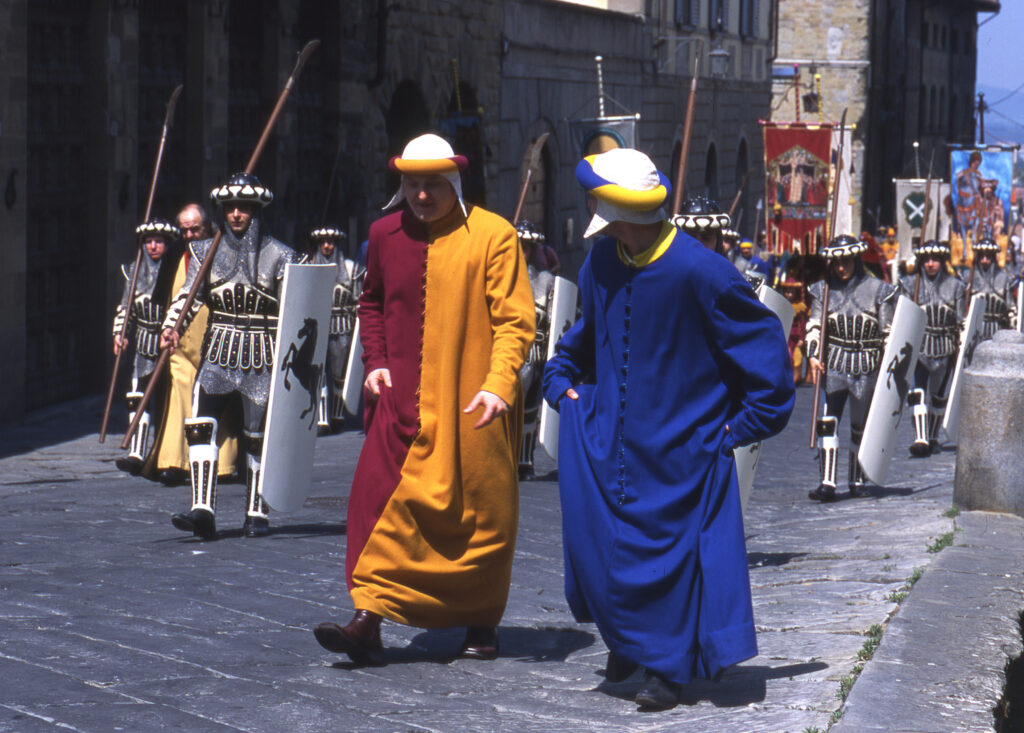 After I moved to Germany, I planned a trip of a lifetime to visit the physical places in my children's adventure story set in the early Middle Ages. I wrote the story with spreadsheets, maps, Google, and libraries. It was a work of imagination based on research.
The itinerary included the most important and accessible places in the story:
Bologna (nearest airport and unexpectedly beautiful)
Casa Cares near Tuscany (a family visit to this retreat center brought me to Arezzo and the story)
Camaldolì monastery (an 11th century monastery and hermitage)
Arezzo (Birthplace of Guido d'Arezzo and my main character's home. Site of an annual medieval festival that clothes the whole city in the Middle Ages.)
Pratovecchio (a beautiful medieval town with arcades)
Poppi (site of an ancient castle, and on the route my characters traveled over the mountains)
Classe (known for its byzantine mosaics and churches. Site of the Basilica of Sant' Apollinaire with the mosaic mural of a shepherd with sheep that Bella admires on her way to Venice.)
Ravenna (the modern city near Classe and the sea. Organic market under the arcades with medlars, sausages, ricotta cheese and Napoleon squash.)
Pomposa Abbey (a powerful medieval Abbey, today much further from the sea)
Venice (colors, light, flavors, a museum of boats and the beginning of the sea journey)
I hoped to collect images, recordings, and maybe video to use on a new website. My husband and child #2 are photographers and agreed to be pressed into service.
My goals for the trip were to experience my story world with all five senses and to resist the temptation to go overboard and drive my family crazy.
What actually happened surprised me. Here are some quotes from my trip journal:
Imagination: How does it work? What is it good for?
"I'm constantly adjusting to two sets of 'memories': the set from a visit here in 2002 with my parents and the set from Bella's [my main character's] imaginary journey."

"My husband said, 'Your imagination is important' meaning, it needed to be recorded and cared for in the midst of confusing landscapes and facts."
Validation: I got some things right.
"I felt hopeful for the first time in a while when I saw Guido d'Arezzo's house is close to the church and the park with the Medici fortress. It is downhill to the piazza grande from there."

"The friendly man in the tourist office agreed that the Cathedral School might have been up where the Medici ruins are now."
It was so much fun to talk to someone who knew and cared about the real Guido d'Arezzo. I had no idea how much it would help me with the story to get that boost.
Fortune from a Baci chocolate: 'Metti il cuore in tutto ciò che fai.' Or 'Put your heart in everything you do.'
Disappointment: Some things have changed since the 11th century. In many cases, the particular medieval landscape I wanted to photograph didn't exist any more. The places that felt most like my story were sometimes in the next village over.

"We didn't get to Camaldolì because we would have been too late getting home."
Note: we drove a car and my characters walked, went by donkey or in a litter. So much for the spreadsheet distance and travel time calculation!
"The winding roads slow the pace of modernity. Not that much faster than Bella."
Generosity: the balance between getting it perfect and letting it go
"My husband is very generous to take me places when he would like to sit in the sun and talk to people."
The experience: What it feels like to travel in unknown places:
"Luke Skywalker could drive a rental car through tunnels surrounded by trucks traveling at top speed. The Death Star is nothing to this."

"My daughter's order of 'latte freddo bianco' [cold white milk] came with a teacup and saucer and a spoon."

"A list of things that could bother Bella: mosquitoes (+ malaria), fog and poor visibility, the smells of pig farms and old fish, injuries, cut fingers, blisters, wasp stings, the feeling of being cheated, the need to re-group, trying to recall what she'd seen, angry drivers. . .what is the medieval equivalent of a road with a slow bicycle, a Vespa between lanes, a heavy truck in front and another passing from behind?"
I never expected to walk around in my imaginary world with my family. It was hard to talk about things I hadn't put into words before and to make a claim that my imaginary people existed in a real landscape. It was magical for me and I think it helped my family understand better too.
This trip reminded me that a story is a kind of hospitality. We invite people in and try to make them comfortable before they embark on adventure.
What makes you comfortable when you set out on adventure? What sparks your imagination?