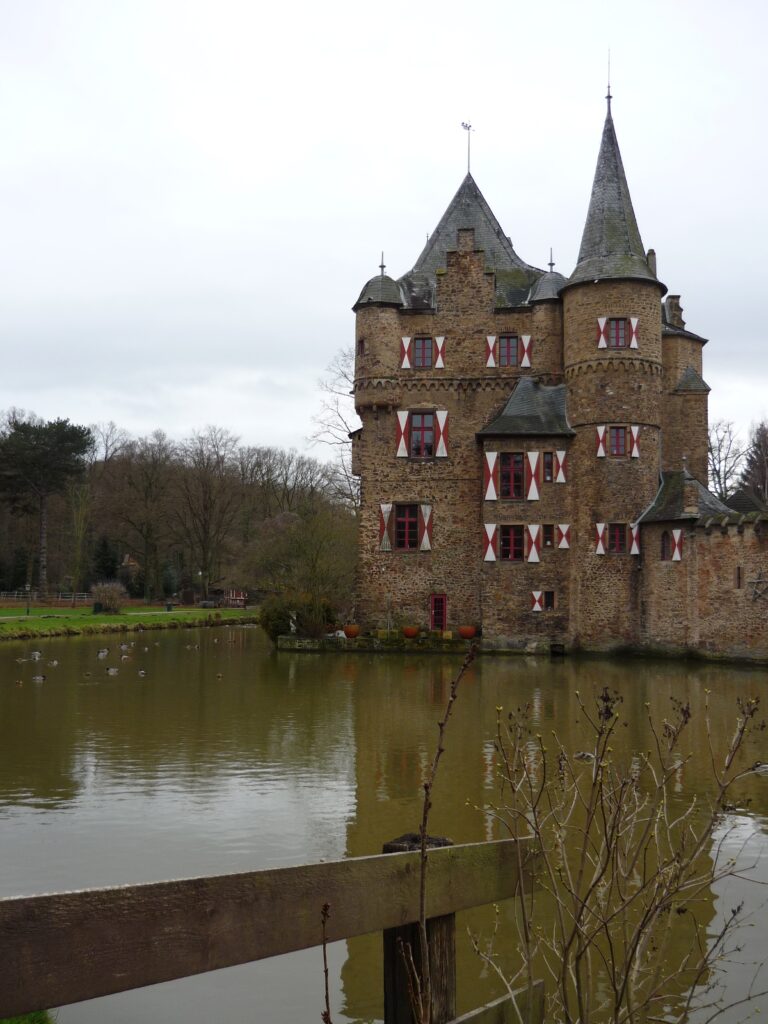 Yesterday, I visited a nearby village and strolled through the public part of the castle grounds of the lovely Burg Satzvey. It was built in the early 1300's and now hosts jousting and other medieval-sounding shows for the entertainment of the populace. Half-timbered houses cluster around the castle and a large church stands just up the hill.
How do you decide what to do with a castle, if you inherit one? In medieval times, the castle protected the village folk and probably provided a secure marketplace for trading. The size of the modern parking lot and the shops (now closed for the winter) inside the castle say that some things don't change. Using your inheritance in this way probably has pros and cons. We also saw a bench securely chained down in front of a village house. The tourists around here must be eager for souvenirs.
But the noble family could have made a different choice: they could have left the castle to fall down into a romantic ruin. For example, the abandoned vineyards on the Mosel are called "Brazils" because so many vintners left the area for warmer climes.
One person's decision can influence a whole village.
My own experience is that people move around much more in the United States. Many people volunteer and serve their communities in all kinds of ways. Some give to their communities in large-scale ways. Andrew Carnegie gave us libraries. I just found a new book I want to read about him.
Wangari Maathai of Kenya planted a tree, and another and another, and eventually won the 2004 Nobel Peace Prize. Read about her story in the picture book PLANTING THE TREES OF KENYA.
Or what about teen Trisha Prabhu's app to prevent cyberbullying? Listen to her TED talk here.
We're sometimes quick to dismiss our own experiences and education. Burg Satzvey gave me two questions for myself that I pass on to you:
What is our heritage and how will we choose to build on it?
What moves us enough to take a first small step?
_________________
Thanks for your interest in my work! If you'd like to stay in touch, sign up for my Reader's List. Once a month, I share new middle grade fiction, story-related freebies, and/or related blog posts. If it's not your thing, you can unsubscribe at any time.
Do you know a young reader who might like a medieval adventure? Click on the button below for a free sample of story and a free e-book about the story world of THE WOUNDED BOOK.