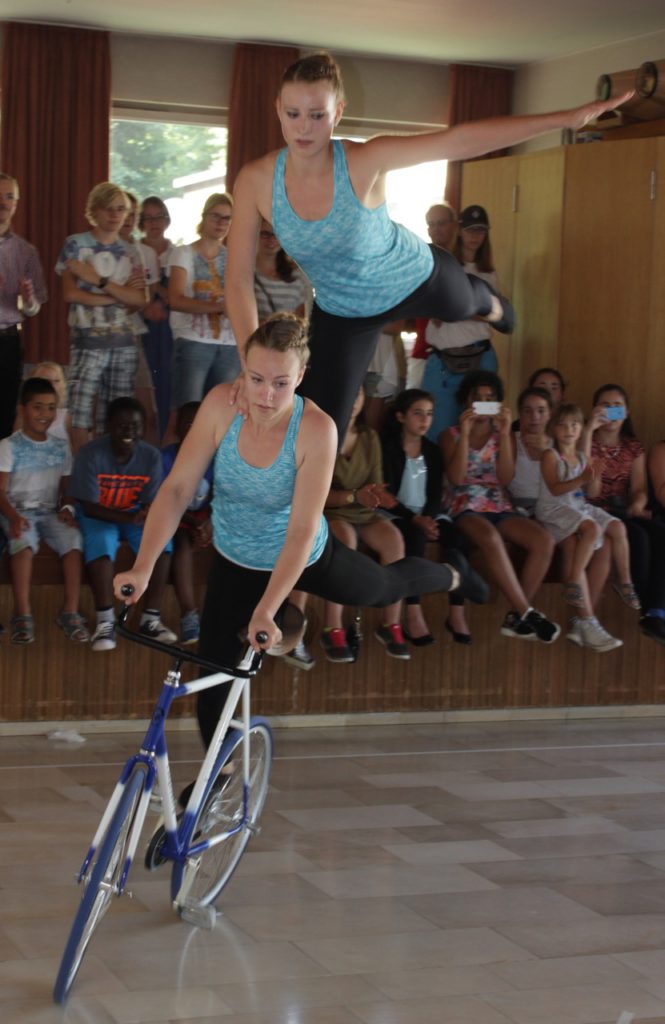 What makes us decide to try impossible things? A thing can call to us, but we still don't try it. Some of it must be inborn and some must be the recognition that a thing is possible.
In Crossing Unmarked Snow, William Stafford captures the "inborn" part beautifully.
The things you do not have to say make you rich. Saying things you do not have to say weakens your talk. Hearing things you do not need to hear dulls your hearing. And things you know before you hear them those are you, those are why you are in the world.
This weekend, I went to a summer festival for the local YMCA. Three bicycle gymnasts put on a show. Most of what we saw looked impossible. How do you learn to stand (on feet or hands!) on bike handlebars while the bike circles the floor? A bicycle pivots at the handlebars. We're talking acrobatics with traveling scissors. Generosity was so evident. The performance was free and stellar: concentration, coordination among the riders, and now I can't even remember if there was music. I was too busy clapping.
It's so miraculous when something impossible works. Ice skaters, musicians, dancers, and others practice and practice, but when the performance comes, it's still miraculous. My husband said afterwards: "They have so much CONTROL over their bodies."
The encore was a fleet of smaller bikes for kids 6-12 to try out. Little kids lined up right away. Older kids looked on regretfully from the sidelines.
I still couldn't imagine myself doing a handstand on a moving bike, so I went to help at the used book stand. A customer handed me a stack of books and beamed.
"How much work goes into writing a book?" She smiled, shaking her head. "I can't even imagine."
Since I've been writing fiction for a long time now, I can imagine that very easily. It looks impossible when you see only the finished product. But with consistent work, a miraculous fragment or two becomes less rare.
So much so, that the audience continually raises the bar. "We've seen that already." Once you've proved that something can be done, nothing is the same. If you want to amaze people again, you have to create something else.
This weekend, I read JINX'S MAGIC and marveled over author Sage Blackwood's performance. I was completely immersed in the story until the very end. Not an easy feat in a sequel.
Jinx's learning style made me think of the bicycle gymnasts. He learns magic by climbing inside a spell and seeing how it works.
The bicycle gymnasts pitted their muscle control, balance, and ability to work together against gravity, acceleration, and painful falls. They kept coming up with new twists and combinations until you were sure they were going to fall off.
What kept me reading in JINX'S MAGIC was the tension between the characters. Were they on Jinx's side or not? Would they support him at the critical moment or let him fall? I wondered if Jinx would make the right choices for his own life and for the Urwald. It makes me want to climb into the novel and take it apart so I can see how it works.
Author Joanna Penn commented that one of her goals is to show society that it's possible to make a living with art.
Both JINX'S MAGIC and the bicycle gymnasts showed me unexpected possibilities. You have to see that something is possible before you start walking down that road to a new adventure. It doesn't even have to be very possible. Just imaginable.