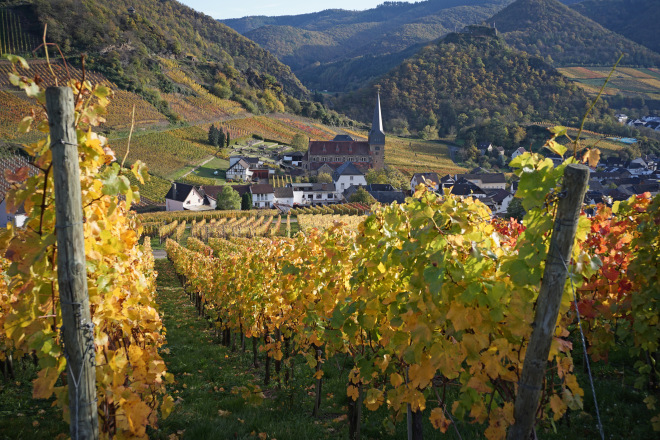 People look beautiful and shiny to me just now. When I look at families pushing baby strollers or see young couples deciding how to spend their money in the grocery store, or older couples making careful choices, I'm struck with how "temporary" they  look.
A little more than a week ago, I almost lost my husband to pulmonary emboli* while we were standing on the sidewalk, waiting for the light to change. Thanks to the quick first aid work of our youngest, a passing doctor who stopped, and a kind person who called the ambulance, my husband got almost immediate care.
The whole thing feels impossible. No set-up, no foreshadowing. The week before we were hiking for hours in the sunlit Ahr valley.
We've been given another chance. It's tantalizing to know what to do with it because it feels like a "temporary" awareness. My brain keeps trying to tell me I imagined the whole thing: "There's no need to change anything now." But I want to remember long enough to benefit from the experience. It's a gift that we are still here together.
The next day, I stumbled over this Bible passage in the daily reading:
19 Blessed be the Lord, who daily bears our burden,
The God who is our salvation. Selah.
20 God is to us a God of deliverances;
And to God the Lord belong escapes from death.
Psalm 68:19+20. New American Standard Bible (NASB)Copyright © 1960, 1962, 1963, 1968, 1971, 1972, 1973, 1975, 1977, 1995 by The Lockman Foundation
I underlined it in my Bible years ago, but I had forgotten it. It makes me think about all the people in dangerous places, escaping with their lives.
We were just standing on a street corner and people came to help us right away. Humbling.
Thank you to the EMT's Notfallsanitäter from the Bonn Feuerwehr and to the staff at the St. Peter's hospital, the Petruskrankenhaus!

*Public health note on pulmonary emboli: I'm an epidemiologist not a doctor, so this is my population-level view. 🙂 Basically, a thrombus or a blood clot–often in the legs–cuts off the circulation at a fixed point, causing swelling and sharp pain. Some people don't appear to have this warning or misinterpret it as something else.
A pulmonary emboli is like a rogue assassin. It breaks free from a thrombus somewhere and gets stuck in the lungs, causing shortness of breath and sometimes collapse and death. Blood thinners can be given to prevent pulmonary emboli if you know you are at risk. See your doctor. 🙂

If you want to know what puts people at risk for deep vein thrombosis and pulmonary embolism, this nested case-control study from the Mayo Clinic gives a good list: Surgery, trauma, hospitalization or nursing home confinement, cancer with or without chemo, pacemaker/catheter, superficial vein thrombosis, neurologic disease with partial paralysis. Varicose veins are a stronger risk factor for younger people (45 years) than for older people.
______________
If you'd like to stay in touch, sign up for my Reader's List. Once a month, I share new middle grade fiction, story-related freebies, and/or related blog posts. If it's not your thing, you can unsubscribe at any time.
Save
Save
Save
Save
Save
Save
Save
Save