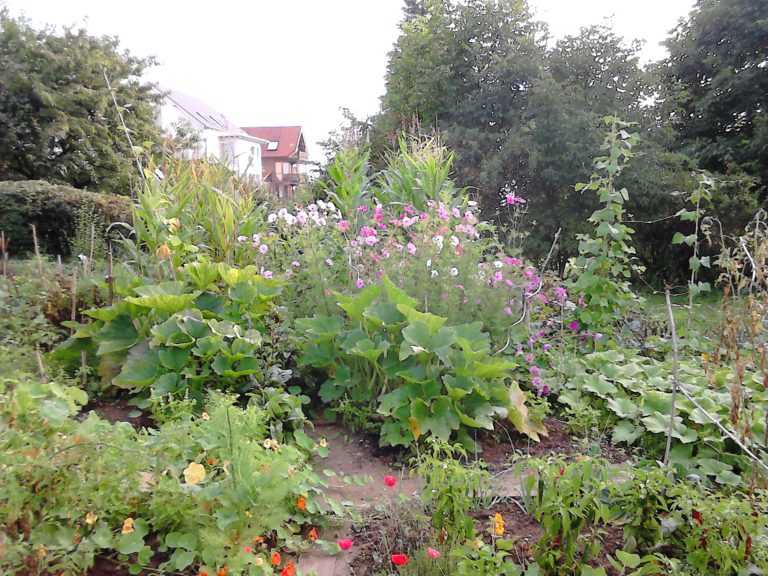 I've never grown vegetables in Germany–until this year. That means I need lots of new words!
If you're considering gardening in Germany, maybe this list will help you out. Or provide you with a little entertainment. Or I'll just be able to look things up here when I forget them. 🙂
die Gartenschnur–garden twine, jute, often dyed green here.
die Harke–rake (memorization: Rake and Harke both have r's in them.)
die Hacke–hoe
Note: When my father-in-law (from Northern Germany in Sauerland) said Hacke or Harke, I always thought it was the same word. He pronounces the "r" way back in his throat, somewhere near his toes. When we visit this weekend, we're going to have a Harke/Hacke challenge. Stay tuned!
Update: I'm crushed at how wrong I was. Even I can hear the difference when he says them. On the bright side, I can finally ask for the tool I want.
die Samen–seeds (not to be confused with der Samen which means seed of the human variety.) Or stay on the safe side and use:

das Saatgut–seeds
der Setzling, die Setzlinge–young plants ready for transplanting into the garden.
das Unkraut, die Unkräute–weed, weeds
die Kräuter–herbs
And for the Dark Side:
der Laubbläser–leaf blower. I was hoping for a creative word for the whining distractions like the German word for vacuum cleaner–der Staubsauger–which is literally "dust-sucker" but I guess you can't get more literal than leaf blower.
Oh no, now I need to buy 8 different kinds of oregano–these all sound so delicious!
According to the Californians at Rancho Gordo, who are experts in beans of all kinds, these are the two kinds of Mexican Oregano I need to try.
and
Who says book research isn't a plus for family life? You're probably wondering what Mexican Oregano has to do with 11th century Italy. I was looking up how to cook beans in a glass fiasco for my revised Chapter 1. Anyway, I'm sure Mexican Oregano helps keep up with the zucchini harvest.

Uh, no. My chapter isn't done. Funny you should ask.

Bye!
Hope your writing, reading, and summer are all going well!
Save
Save